Oct 20, 2018 09:00 PM Central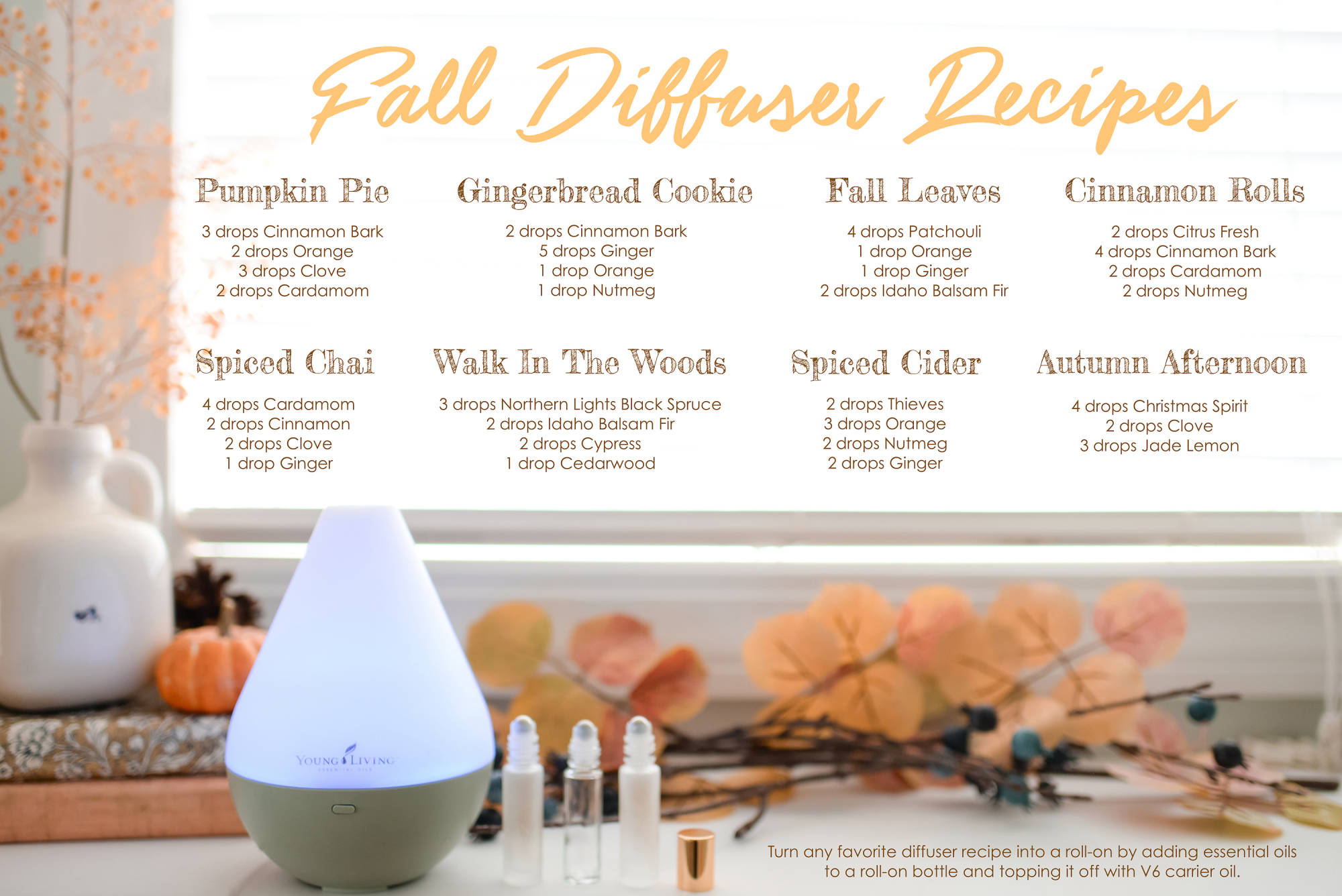 As soon as I saw our first leaf fall, I ran to the cabinet to get my favorite fall combo for the diffuser. Adding it to the diffuser sent me into a deep fall trance. It's one of my favorite seasons. This was not me 4 years ago. We didn't even have a diffuser and were not using Young Living to better our health. But a friend shared with me. She shared what Young Living was all about and I'll forever be grateful that she did.
Wellness is within your hands! Get your wellness routine down pat so you can stay healthy this fall!
Here is what I am doing and what I recommend for you.
Thieves diluted along your spine and throat
RC, Raven, or Eucalyptus on your chest (ALL THE TIME)
A drop of Raven or Lavender in a bowl of gently steaming water, breathing it in with a towel over my head. Refreshing for the respiratory system and the skin!
Frankincense anywhere and everywhere (especially at night on my face before I moisturize)
Hot honey tea with, 1 drop of Lemon+ (from our food flavoring line)
Peppermint and Copaiba when required on my temples or neck
Life 9 Probiotic --a MUST for everyone #GutHealthEqualsImmuneHealth
Thieves or Immupower rolled onto your feet at night
This month, I want to encourage you to share your oils with ONE person. Aren't you glad your enroller shared with you?
If we all reach ONE person, we will help so many more people who are struggling to find wellness, purpose, and abundance.
How to share your oils with others.
Use your oils in front of your friends or family.
Share a sample with a friend in need.
Tell your mama, sister, brother, kids, cousin, or neighbor that they NEED their own kit!
Listen to what people are telling you they need. Use your reference materials to find some suggestions about what they can use. Show them the value of the Premium Starter Kit. Give them your very own member number so they can order their own PSK.
When you help a friend get a PSK, you will get a $64 "Thank you" check* for spreading the love. This is a great way to help others and get some extra holiday money.
The Young Living business opportunity has blessed many families, even families on this very team. They are receiving monthly paychecks that cover their YL products, groceries, car payments, and even mortgages. I didn't think I would ever do this business and it has not only been a blessing for me but it has also changed the lives of those I have shared my oils with and helped order their very own Premium Starter Kit.
I want to make sure you have seen the NEW 2018 Income disclosure statement. Here is a snapshot. Yes, those are MONTHLY incomes.

Find the full Income Disclosure statement HERE.
If you need help finding your member number, I can help.
*You must spend 50PV during the same calendar month that your new member orders the PSK in order to receive your $64.